M73 KONTOS
Code:
ANVM73-003
ANVM73-002
Choose variant
Related products
Product detailed description
M73 Kontos incorporates all the basic components of the knives of the M line. It has a full tang design with a thoroughly shaped perimeter and a light-weight handle for a perfect balance. Its blade is made of the Swedish Sleipner steel, Stonewash or coated with Cerakote, with a 3D machined handle, made of a massive piece of micarta. M73 KONTOS can be clearly recognized by its hexagonal base, machined from an original tank track pin. It comes with a self-locking Kydex case, amended by a couple of molle clips.
Interview with the knife authors
"When designing the M73 knife, we strived to underscore the well-known elements of tank T72. In the backbone of the knife, we can see the strictly straight top surface of the tank hull. The front, fake edge embodies an axe for us, i.e. the front panzer part of the tank. Finally, the actual blade copies the same curve as the hull tub in the space below the tank driver," describe the knife sergeant Petr Stach and staff sergeant Petr Knot from the 73rd Tank Battalion. "We also wanted to preserve the symbolism of the turret number. That is why we marked our knives by serial numbers on their bolsters, which, identically to the tank turret, protrude from the body of the tank/knife," adds sergeant Stach. "Clearly the biggest challenge was to mount the handle base with a tank track pin. The most important part was profiling of the handles, making sure they remain comfortable and functional despite their nonorthodox contour," says Ondřej Němec from ANV. "We also wanted to imprint a little bit of symbolism in the knife. That is why the handle has three screw sets, which represent the fact that our battalion has three tank companies," says staff sergeant Knot. "Moreover, each platoon has three crews, and each crew consists of three men," concludes the results of the collaboration sergeant Stach.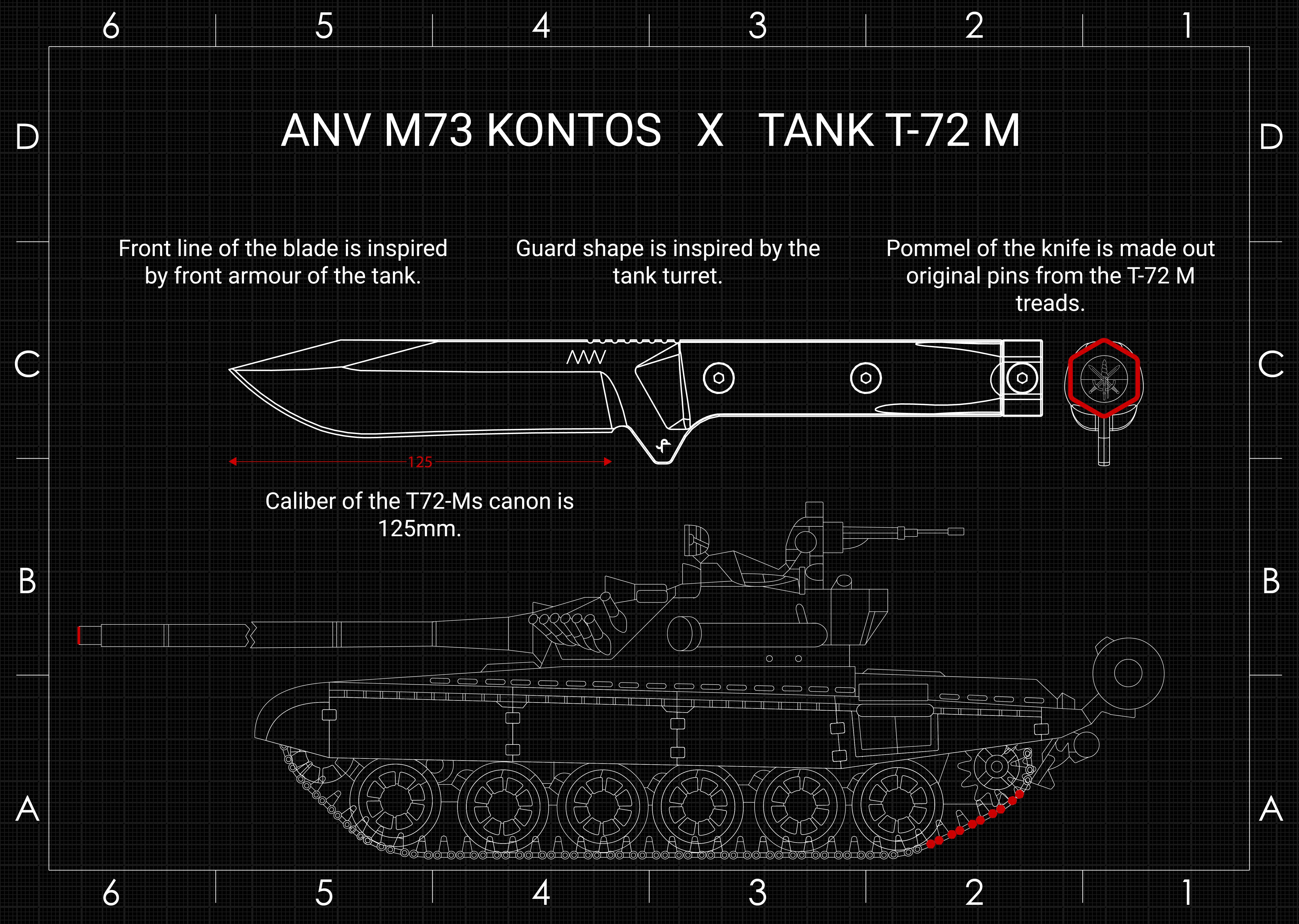 Additional parameters
Category

:

SHOP
Blade style

:

Recurve bowie
Lock type

:

Fixed blade
Materials

:

Blade material

:

Sleipner
Blade hardness

:

58 HRC
Handle material

:

Micarta
Sheath material

:

Kydex
Colors

:

Blade color

:

Stonewash / Black Cerakote
Handle color

:

Black
Sheath color

:

Black
Dimensions

:

Overall lenght

:

265 mm / 10,4 inch
Lenght of blade

:

125 mm / 4,9 inch
Thickness of blade

:

3 mm / 0,1 inch
Weight of knife

:

228 g / 8 oz
Molle clips

:

Included