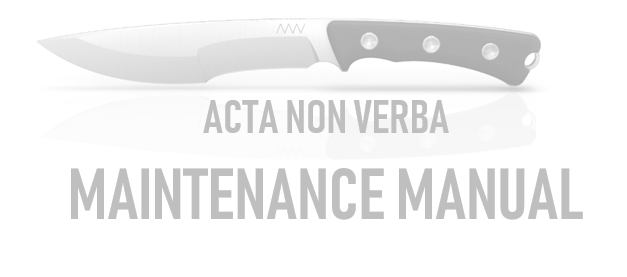 Our knives have a lifetime warranty. However, in order to keep your knife serving you for many years, you need to take good care of it.
If you follow the instructions below, your ACTA NON VERBA knife will last a lifetime.
However, if you can, entrust the maintenance and sharpening of your knife to an expert.
SHARPENING
Use sharpeners from our range. You can also use an sandinng belt, a flat sanding stone with suitable grain size for both dry and underwater grindin. Flat, bar, disc, broach or "V" sharpeners. Use leather pulling belts for perfect sharpening.
When you sharpening, use the accessories and oils recommended by your sharpeniing tools manufacturer.

CLEANING
After each use, clean the knife with a wet cloth. In the event of greater contamination of the knife or sheath (eg with blood, dust, sand, etc.), use a jet of running water. Subsequently, wipe thoroughly with a dry cloth and lubricate all components. Colapsible knives are recommended to be disassembled, dried and lubricated after cleaning with water.
Never use chemical cleaners, fuels or detergents containing abrasives.
Do not wash in the dishwasher!

MAINTENANCE OF SHEATH
If the Kydex sheath is dirty with blood, dust, sand, etc., use a jet of running water. For such a case, the Kydex sheath is provided with a cleaning hole.
Kydex sheath can be treated with knife maintenance oil or silicone oil.
Leather sheath just treat them with a suitable leather care lotion containing beeswax.

STORAGE
For long-term storage, use the original ANV box in which you purchased the knife. Lubricate the knife thoroughly before storing, then store in a dry room at room temperature.
WHAT YOU SHOULD NOT DO WITH THE KNIFE
Do not wash the knife or sheath in the dishwasher.
Do not use the knife as a screwdriver.
Do not cut, sting, or cut hard materials such as metals, stone, hardwood, hardened plastics, glass, composite materials, and the like.
Avoid contact between the knife and the salt water (not for diving models and knives marked "Salt Water Resistant").
WARNING
All ACTA NON VERBA knives is extremely sharp. Be careful when unpacking and then handling the knife. Risk of injury!
If you choose to wear a knife on your neck, use only ANV safety ball chain. Never use ropes, ropes, enclosed Paracords or other solid materials to hang the neck knife. Keep your knife out of the reach of children. A knife is a weapon. Treat yourself accordingly.
When traveling with your knife, read the laws of your destination. Some knife designs (one-handed opening) or some dimensions (blade length, total length) may be restricted or prohibited by local law.
ANV Knives Warranty Service,
Pražská 1647, 676 02 Moravské Budějovice
Czech Republic.
+420 603 732 721
janicek@anvknives.com